Preserve, Interpret, Present
Bing Rooming House African American Museum
"Bing Rooming House African American Museum is at the forefront of diversity, thought and content in Plant City, Florida"  James "Jimmy" Washington (2007)
EFFECTIVE NOVEMBER 25, 2023
OPERATING HOURS
Wednesday 10:00 a.m. – 2:00 p.m.  Free Assistance for Military Veterans
Thursdays and Fridays 10 a.m. to 2 p.m.  Open for tours
Please contact 1-813-757-6760
Upcoming Events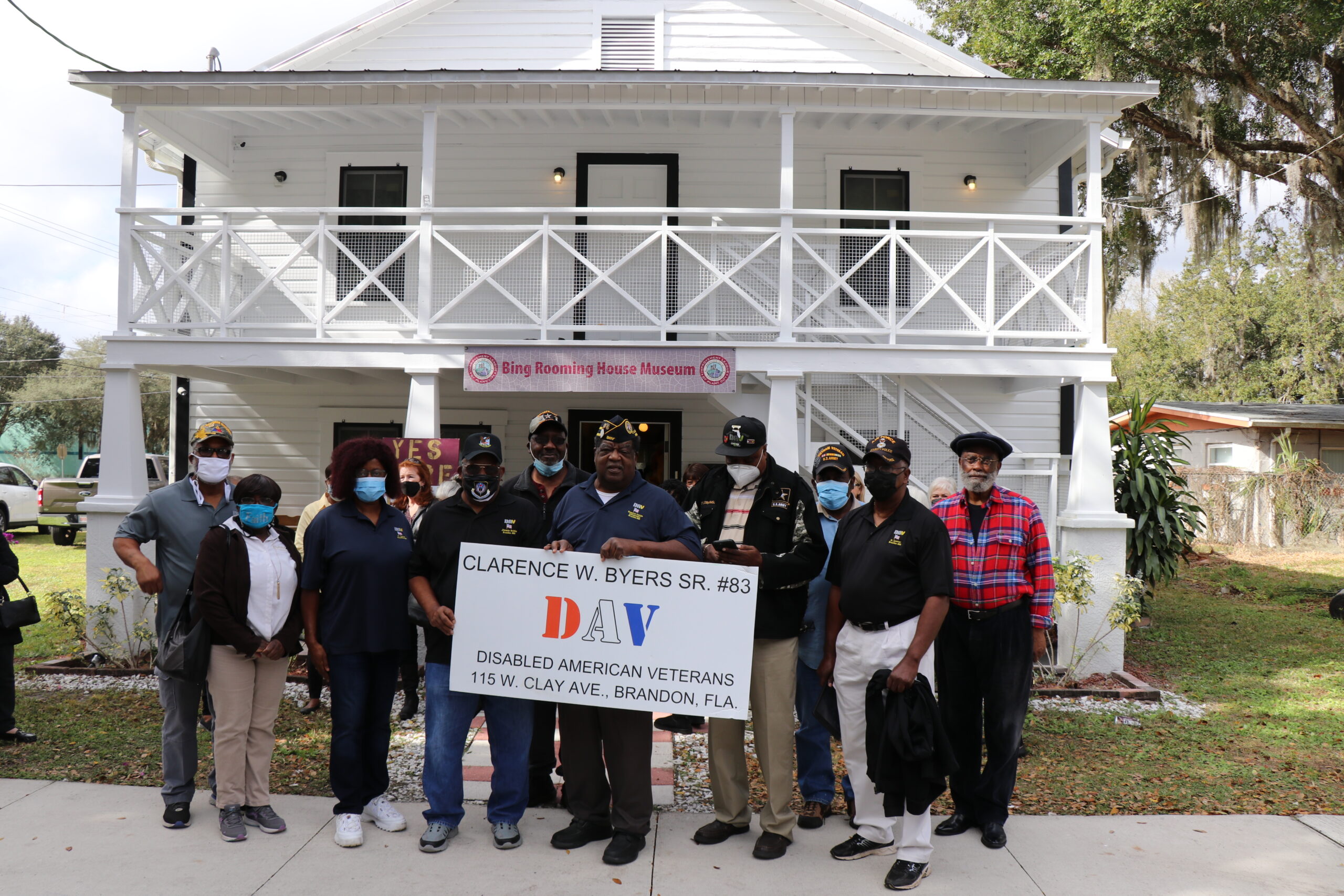 Free Veteran's Assistance Program
Every Wednesday from 10:00 a.m. to 2:00 p.m. local military veterans can stop by the Bing House Museum and receive free assistance in applying for veteran benefits. Local resident Mr. Hampton George, retired U.S. Army has assisted over 3,000 veterans since October 2020. No need for an appointment. Just stop by.
Festival, Parade, Drumline Jan 13, 2024
Join us for the 38th Annual Plant City MLK Festival featuring our city parade, street vendors, live music, and battle of the drumline invitational at the Sadye Gibbs Martin Community Center. The MLK Festival runs from Friday Jan 12 through Saturday Jan 20, 2024.
Let the Story tell the story
The museum strives to accurately preserve, interpret, and present Plant City's African American history from an African American perspective. Exhibits, artifacts, storyboards, oral history, and written documents help both American and international visitors better understand the experiences of African Americans during the segregation era.
PC Selfie Tour
Plant City, Florida is home to over 25 landmarks, structures and businesses relating to African American History.  The Bing House Museum, Plant City Photo Archives, Marshall School, Glover Campus, two slave cemeteries, Law Office of Ted Taylor and the new downtown mural are just a few examples.  Click below to get a map and description of each location.
Latin Jazz Recording Artist Jose Ramirez jams at Plant City Blues, BBQ & Berries on Evers Street June 26, 2021.
Special Thanks to Solution Source, Wetherington Tractor Services and Hillsboro Bank, Holiday Inn Express and Marzucco Realty.
#RootsonTap, #TipsyBookworm, #3HandsMead, #PCPA